Microsoft Outlook is an email program used for sending and receiving emails. As the lotus points out, it is also used to send and receive emails for the user. Now, why is it required for Outlook to Lotus Notes transfer if both are email clients and are utilized for email management? As a result, this post includes an answer to such inquiries.
So here's the answer: we require this email conversion since MS Outlook and IBM Lotus Notes use distinct file types for processing and storing emails and attachments, and you can't access Outlook-authored emails directly in the Lotus Notes application server.
The user-created email files are saved by the Outlook client using PST, or Personal Storage Table, and by Lotus Notes, using NSF, or Notes Storage Facility Both file formats are very dissimilar from one another. However, you cannot immediately convert Outlook files into Lotus Notes format. And if you do try, you can lose your email files or run into file corruption. Without professional assistance, converting from Outlook to Lotus Notes is not secure.
So, to do so, you must follow specific processes and methods that are safe and secure for converting PST emails into Lotus Notes file format without the chance of data loss. Let's have a look at them.
Manual Outlook to Lotus Notes Conversion Methods
To convert a PST file to an NSF file, use the methods listed below.
Using the freeware utility nUpgarde exe
You can import Outlook emails into Lotus Notes manually using this method. This nUpgarde tool is part of the Notes Migration Tools and is installed by default in the IBM Lotus Notes program's local directory. Simply install this software alongside the Lotus Notes installation process. Remember that if you want to utilize the nUpgarde program, you must install it alongside Lotus Notes.
Before running the Notes upgrade wizard, double-check the following items.
Instead of "Internet Mail Only," set your Microsoft Outlook workstation to Corporate or Workgroup.
Set MS Outlook as the workstation's default mail application.
Outlook PST or PAB files must be connected to a workstation profile.
Migration from Outlook to Lotus Notes Using the Notes Upgrade Wizard
Open Command Prompt, type exe, and hit Enter.
Enter the directory path in nUpgarde to change the Lotus Notes client software directory. To launch the Note Wizard, enter the exe3 command.
The Upgrade utility Wizard will appear on your computer screen; click the Next button to proceed.
Select the PST or PAB files you want to export to Lotus Notes here. Press the Next button to proceed.
Now select a free upgrade method. Custom for selecting the things to migrate into NSF or Express for exporting all files associated with a selected Outlook profile, and then click Next.
In the Begin Upgrade Screen, click the Finish button to begin the migration process.
The free nUpgrade utility will notify you when the PST to Lotus Notes migration is complete. The Lotus Notes Wizard converted PST files will be available in a database folder view as NSF and PST contacts in the Personal Address Book as Names. NSF.
Although the above-mentioned manual method is a good way to convert NSF to PST, this upgrade tool may occasionally fail to transfer PST to NSF. This method also necessitates technical knowledge and, most significantly, your valuable time, as it is a time-consuming operation. Instead of wasting your time, you might use a third-party program.
PST to NSF Converter Software
The best way to transfer from Microsoft Outlook to the IBM Lotus Notes email application is to use third-party Softaken Outlook to Lotus Notes Converter Software. This utility can simply convert all Outlook files into Lotus Notes files without altering the contents, preserving the uniqueness and integrity of the data. It is simple to use software with an interactive user interface. It enables both technical and non-technical users to use the software. The software may also easily convert Outlook emails into Lotus Notes emails in bulk.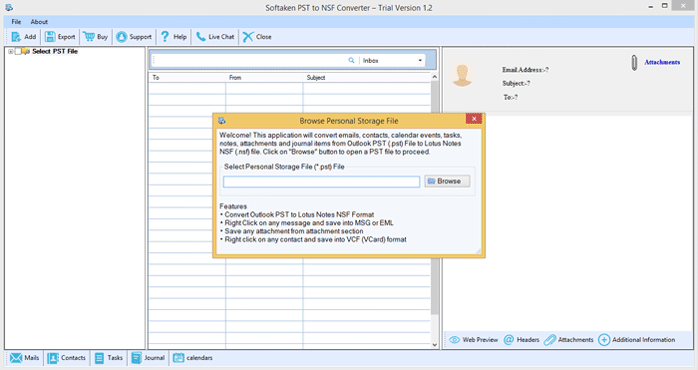 You merely have to download the software from the authorized website of Softaken and install it successfully on your PC. The program also has a sample version that allows you to convert a few items from each inbox for free. However, converting PST emails to Lotus Notes in bulk requires the full edition of this software.
Conclusion
That's all there is to PST to Lotus Notes Migration, and you now have two options for converting a PST file to an NSF file. It is completely up to you whether you choose the manual or professional way. I hope the information provided above is sufficient for the conversion.
Read More Bogs on thethriveglobal