MS Office documents, which are frequently provided as attachments in emails, can be opened within Outlook using the Outlook preview feature. It is also not confined to Microsoft software; one can open a text or pdf file within Outlook. It is not necessary to launch the required application independently to view the contents of the uploaded file.
Without a doubt, the preview tool in Outlook is a really useful and helpful feature. As a result, it does not always function as planned. Outlook occasionally takes too long to preview a file and occasionally produces an error. The problems with preview features can vary. It may be as easy as a pop-up window that says, "The file cannot be previewed since no previewer is installed for it." It can also be as unclear as Outlook taking ages to preview a file and without displaying any error or diagnostic message at all.
This post will go through some options for getting access to email attachments in Outlook. Among these solutions are:
Check to see if the previewer application is installed.
Check that the Attachment Preview options are enabled.
Fix Registry entries in Windows
Examine your Windows Firewall settings.
Check to See if the Previewer Application Is Installed.
If you are having problems previewing a specific type of file in Outlook, the problem may be outside of Outlook. Check to see if your machine has the necessary application installed to open that specific file type. For example, if Outlook cannot open only PDF files, make sure you have a PDF reader installed on your PC. You can check for a compatible Software or file format by following the easy steps below:
Save the Outlook attachment.
Browse to the downloaded path in Windows Explorer.
To open a file, right-click it and select Open with.
To open the file, you will be prompted to select an application. If no required applications are listed, click on more apps.
Browse the list and select the suitable program.
Select the "Always use this software to open similar files" checkbox.
If you were unable to locate a supported application for the file type using the preceding methods, you must install the appropriate application. Once the application has been installed and set as the default for such file types, restart Outlook to see if the problem has been rectified.
Check that the Attachment Preview Settings are enabled.
You can manually enable and disable the Preview Attachments functionality in Outlook, as previously stated. Before viewing your email attachments, check the Attachments Handling Settings. To do so, follow the steps given below:
Launch Outlook and go to the File Options tab.
Choose the Trust Center menu and then click Trust Center Settings.
Select the Attachment Handling tab in the Trust Center dialogue box and uncheck the Turn off Attachment Preview checkbox.
By tapping the Attachments and Documents Previewers button in Outlook, you can see which programs are allocated to view email attachments. When you're finished, click OK.
To save the changes, return to the Trust Center dialogue box and click OK.
Repair the Windows Registry
If you are still having problems previewing a specific file type from Outlook, you must correct the Windows registry entries. There is a key established in the Windows registry editor for each application type for Microsoft Outlook. If you're having problems with a Word document, open and update only the key associated with the Microsoft Word field.
The procedures are as follows:
To open the Run dialogue box, press Win + R.
Enter "Regedit" into the search box.
If you have a 32-bit version of Microsoft Office installed on a 64-bit Windows installation, go to the following path:
In all other circumstances, take the following route:
Check the required application's Name, Type, and Data columns.
If the value is different, right-click on the wrong string and choose Modify.
Update the key in the value name as shown in the table below:
To save the changes, click OK.
If you are unable to modify it, delete the old item and create a new one for the application that is causing you problems.
Analyze your Windows Firewall settings.
Although it is unimportant, enabling Windows Firewall has assisted many users in resolving the attachment problem in Outlook. The Windows Firewall blocks unauthorized access to a program that can disrupt the system's workflow.
Follow these simple steps to guarantee that your system's Firewall settings are enabled:
Select Settings from the menu that appears when you right-click the Start button.
Continue to Update & Security > Windows Security > Firewall & Network Protection.
Enable the Windows Defender Firewall settings by selecting a Network profile.
Try accessing the attachments again after using the above procedures. Most likely, the problems with your Outlook attachments have been resolved. If you are still unable to open Outlook attachments, this indicates that your Outlook OST has been damaged. Corruption in OST is a regular issue for Outlook users; there can be a variety of causes for an OST to become damaged or corrupted, such as an abrupt shutdown of the Outlook software, virus incursion, faulty sectors in hard drives, and so on.
You May Repair OST Corruption Issues Both Manually and Automatically.
Manual ways to restore Outlook mailbox are time-consuming and complicated; also, they do not guarantee a lasting solution if your OST file is significantly corrupt. However, an automated approach gives a rapid and lasting solution to OST corruption difficulties. Numerous online applications can assist in keeping OST files in their original condition. If you want a direct recommendation, try Softaken Outlook OST Repair. This program includes all advanced tools for repairing corruption issues in Outlook Data Files (OST).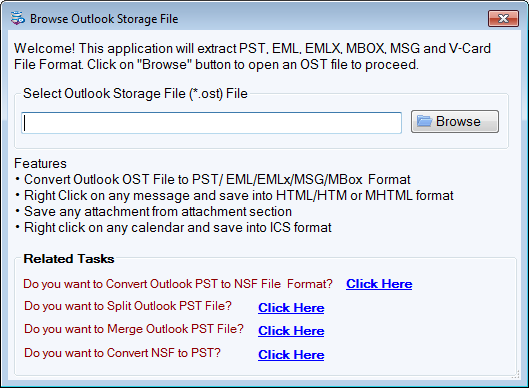 Furthermore, you can save your repaired OST files in many formats such as MBOX, MSG, EML, and so on.
Processor for Outlook OST Repair is a free tool; the trial version allows you to recover the first few items without paying a dime. Finally, if you like working with this OST repair tool, you can quickly upgrade from the trial version to the licensed version by purchasing it.
Conclusion
This article will provide remedies to the "Outlook attachments not working" problem. Some common configurationally adjustments that can resolve this issue are briefly described, along with step-by-step instructions. If you are unable to view Outlook attachments due to corruption issues in your Outlook OST, you can recover your OST files using for Outlook OST Repair.
Read More Blogs on  thethriveglobal