Who was Billy the Kid
Billy, a young boy who later grew up to be one of the most famous criminals in American history, came from a very poor family. He was raised in the desolate slums of New York City in abject poverty.
He was accustomed to overcoming social obstacles because, in the 1860s and 1870s, New York denigrated Irish immigrants. He was born into an Irish family.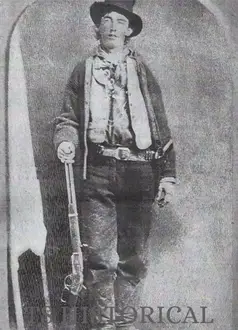 At the time, the slums of New York were home to crowded families, mountains of squalor, and no access to sanitary facilities. It is not unexpected that many Irish immigrants gravitated to criminal activity at the time because they were an oppressed minority. His brother Joseph was born in 1963, and he was born Henry McCarthy in 1859. Calamities would find refuge in Henry's life from this point on. His father Patrick McCarty passed away or abandoned the family in the 1860s, depending on the source.
William H. Bonney, commonly known as "Billy the Kid," is riding drag 300 yards behind his boss, John Tunstall, on February 18, 1878, somewhere in Lincoln County.
John Tunstall, who is also Billy's friend and mentor, gets struck by two shots and knocks off his horse. cut down by "The Boys," a group of men. Billy rushes to his friend's side. Billy, who is devastated and furious, declares, "Before this is over, I'm going to get some of them." Billy grew up in Silver City, New Mexico, where he shared a home with his mother and stepfather. When Billy moved to New Mexico, he immersed himself in the community's culture. He was well-liked by the Hispanic community and had learned to speak.
Billy and his brother enjoyed playing with the neighbourhood kids and were well-remembered. He was frequently the victim of bullying since he was little and had a slightly girlish appearance. Later, his acquaintances remembered him as quiet, easygoing, dependable, polite, and incredibly brave.
Catherine, Billy's mother, succumbed to TB in 1874 and passed away. William Antrim, his stepfather, left for Arizona and essentially abandoned the two sons. Billy moved into a boarding home at the age of 14. He became close friends with Sombrero Jack, a small-time criminal. When Sombrero Jack looted a Chinese laundry, Billy's life would drastically change.
Tunstill
The "Boys" started doing work for "The House." Selling commodities, land, and livestock, "The House" was a highly significant company. James Dolan was one of the leaders of "The House." He was a hard-working Irish immigrant who was feared for not letting anything stand in his way, not even the law or the local sherifBrady, who worked for the House. John Tunstall, a wealthy young Englishman, thought he could outsmart the locals in Lincoln County, New Mexico by creating his own monopoly with his own store and cattle.
The two grew to be sworn adversaries as a result of Tunstall's business having an adverse effect on "The House's" profitability and placing him in James Dolan's direct line of fire. Dolan hired Billy and "the Boys" to rob Tunstall of his horses. Billy was put in jail after they were apprehended. Billy and Tunstall got along when he visited him in prison. Billy agreed to work for Tunstall when he made the offer. Billy looked up to the man and considered him a mentor despite the fact that he was only 6 years older than him.
Lincoln County War
The Regulators did not escape without casualties with Billy being wounded in the side and the loss of his friend, Dick Brewer. with lawlessness in Lincoln County and the situation becoming more notorious, Washington got involved. The government appointed a new governor, Lew Wallace, who revoked the legal status of the Regulators and they effectively became outlaws and Billy was indicted for the death of sheriff Brady.
The Lincoln County war came to a climax when Billy and the Regulators were holed up in a house in Lincoln next to Tunstall's store.The house belonged to Tunstall's lawyer. James Dolan and his men surrounded the house and a siege began. But this time, Dolan enlisted the support of the military from Fort Stanton. Billy stepped forward as a leader and put together a plan.
Billy the Kid in Fort Sumner
till Billy was at ease and came to the top once more. Billy had numerous relationships, but he was particularly close to Paulita Maxwell, Pete Maxwell's sister who lived in Fort Sumner. As soon as Pat Garrett learned Billy was in Fort Sumner, he immediately set out to find him. Garrett and his deputy visited Pete Maxwell's home on July 14, 1881, after entering Fort Sumner. Garrett had met Maxwell. They were pals and had previously worked together. Pete Maxwell was awakened by Garrett, and they conversed while Garrett sat on the bed. Billy came in the doorway immediately after Pete mentioned that he was in town. Even though it was pitch black, Maxwell exclaimed, "That's him." At the age of 21, Billy the Kid was struck by two bullets and fell. Years later, his subordinates would assert that Garrett had killed the wrong man because of the dark chamber.