If you are vegan or vegetarian, soy is the most reliable source of protein comparable to meat, poultry, and their products. However, knowing what to cook or take, how to prepare soy-based foods, and the best ingredients are the most challenging. Surprisingly, you can prepare many soy recipes, so you don't have to worry. 
There are several health benefits linked to soy food compared to meat, dairy, and poultry products. FDA also recognizes soy protein as effective in reducing LDL or bad cholesterol and lowering the risk of cardiovascular problems. Additionally, soy is produced sustainably with no chemicals, ensuring good nutritional value. 
Read the following article to learn about some of the most amazing soy recipes you should try. 
Here Are Simple Soy Recipes To Try Out
You can make lots of dishes from sustainable soy. Let's go through some of these amazing dishes. 
1. Vegan Protein Waffles
Ingredients
Soy milk

 

Whole wheat flour

 
Silken tofu

 

Almond meal  

 

Hemp seeds

 
Steps
Add the silken tofu to a food processor after rinsing it. Add maple syrup and soy milk. Mix them till you get a smooth and creamy mixture.

 

Mix whole wheat flour, hemp seeds, and almond flour in a bowl. You can add a pinch of salt.

 

Mix the first and the second mixture, then whisk them into a pourable mixture (waffle batter)

 

Heat the waffle machine to the maximum. Ensure you adequately spray the griddle with vegetable oil, such as soybean oil.

 

Pour the tofu batter (the waffle batter you made in the third step) to fill all the groves. Use a spatula or spoon to level it.

 
Close the waffle machine using the lid and let your waffle cook till it is spongy and golden brown. Always follow instructions from the manufacturer when using the waffle machine.

 

Don't lift or open the machine lid till your waffles are done. Otherwise, they might end up cracking.

 

Enjoy your healthy protein waffles. You can top it with some sweet toppings.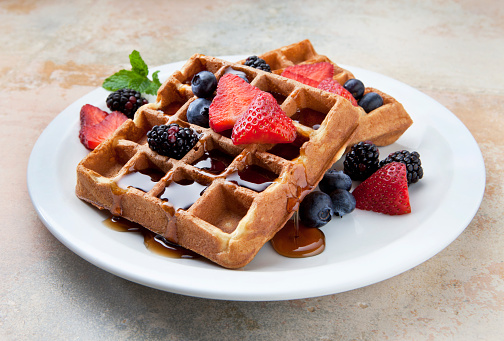 2. Spicy Miso Braised Tofu
Ingredients
Two firm tofu (should be drained)

 
White rice flour (two to three tablespoons)

 

Vegetable oil

 

Fresh ginger

 

Garlic

 

Ground coriander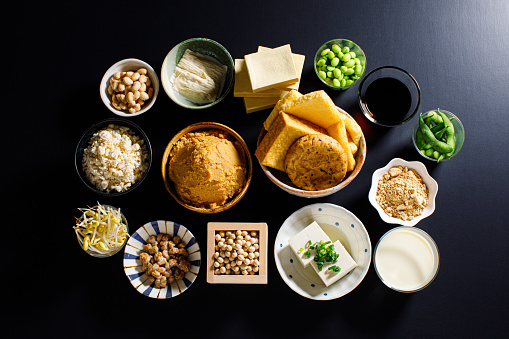 Steps
Gather the ingredients- ensure you have the needed ingredients in place before you start cooking

 

Drain your tofu by pressing it up till water stops seeping out. Avoid pressing your tofu using a heavyweight or too long. Otherwise, it may crack or fall apart when cooked.

 

Once the tofu is drained, dry it using a paper towel or a clean kitchen towel.

 

Slice the tofu into small pieces.

 
Place the rice flour in a small dish.

 

Spread a rimmed baking sheet enough to hold all your sliced tofu.

 

Place the tofu pieces in the rice flour. Place every piece at a time to ensure they are well arranged. Coat all sides of the tofu with rice flour.

 

Mix your sambal and orange juice in a measuring cup.

 

Heat your pan at medium heat. Add some oil till it covers the bottom part of the pan.

 
Gently place the tofu pieces in the hot oil. The pieces should not touch each other.

 

When all tofu is cooked, lower the heat to medium-low.

 

Prepare the other ingredients. Garlic and coriander. Let them cook till the garlic is golden brown. Ensure you carefully stir them. Add the sambal and orange juice carefully and stir up. Once your sauce is well cooked, add the fried tofu.  

 

You can serve your tofu with fresh cilantro and oranges.
3. Garlic Teriyaki Edamame
Ingredients
Teriyaki sauce

 

Sesame seeds

 

Minced garlic

 

Rice vinegar

 

Brown sugar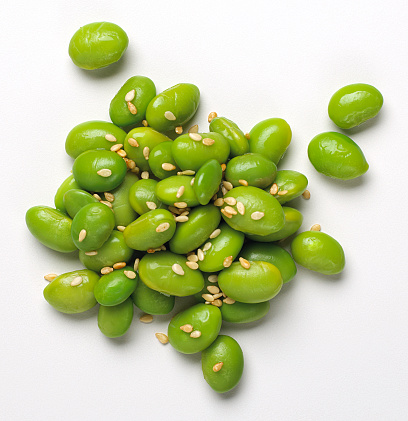 Steps
Boil water and garlic over high heat in a saucepan

 

Add Edamame and let them cook till all the water is evaporated. Reduce the heat to medium-low.

 

Add teriyaki sauce, vinegar, brown sugar, and sesame oil and stir carefully till the sauce is well-thickened and the Edamame is well coated.

 

Sprinkle with sesame seeds.

 

Serve your dish.

 
4. Crispy Edamame
Ingredients
Edamame (green soybeans)

 

Olive oil

 

Grated parmesan cheese

 

Salt

 

Pepper (optional)

 
Steps
Rinse your Edamame in cold water and ensure you drain it.

 

Preheat your oven to high degrees up to 400 degrees Celsius.

 

Spread your Edamame in the baking dish.

 

Drizzle some olive oil, and season with salt and salt. Then bake them in a preheated oven till your cheese is brown and crispy.

 
Serve your crispy Edamame.
5. Kale and Cabbage Coleslaw
Ingredients
Apple cider vinegar

 

Sugar

 

Soybean oil

 

Salt and pepper

 

Pre-cut coleslaw

 
Kale leaves

 

Crushed ramen noodles

 

Toasted sunflower

 

Shelled Edamame

 
The first four ingredients are known as dressing, while the rest are for salad.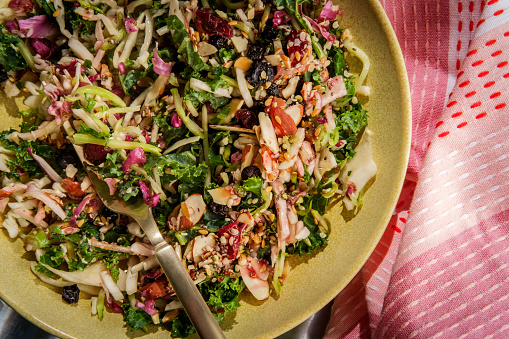 Steps
Whisk all your dressing ingredients in a large bowl

 
Add Edamame, kale, and coleslaw mix, and stir well till you get a balanced mixture

 

Top with sunflower seeds and ramen noodles before serving
Wrapping Up 
Including soy products in your diet is healthy. Soy products are rich in a variety of nutrients, vitamins, and minerals that are helpful to your well-being. Products such as soy milk and tofu are perfect substitutes for dairy and poultry products. You can try out these recipes for finger-licking and healthy meals.